Kimchi + Sesame = Delicious Fermented Bloody Maria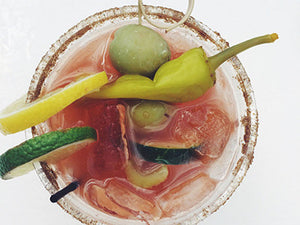 We got inspired by this Tasmanian chef, Luke Burgess, who seems to have perfected the fermented Bloody Mary. What could make it better? Bloody Maria mix, of course!
SERVES 4
Ingredients
2 cups jarred kimchi brine
2 cups spicy pickle brine
2 tbsp. light brown sugar
1 tsp. kosher salt
2 cups bottled clam juice
1 cup Bloody Maria Mix
1⁄2 cup (or more) vodka
Toasted sesame oil, to garnish
Fennel pollen, to garnish
Instructions
Whisk jarred kimchi and spicy pickle brines, light brown sugar, and kosher salt in a large pitcher until sugar dissolves. Whisk in clam juice, Bloody Maria mix and vodka; chill 1 hour before serving. Pour Bloody Marias into glasses; drizzle with toasted sesame oil and sprinkle with fennel pollen, if you like.(adapted from recipe in Saveur magazine)
Did you try it? Tell us! Tag #BloodyMaria and upload to our social media channels.
---
Also in Blog
We'll be taking over the TRAM CAR BAR at Totemoff's Ski Santa Fe on December 31, 11am - 3pm. Come enjoy Live Music and Bloody Maria Micheladas to Ring in the NEW YEAR!
Are you looking for the best low sodium bloody mary recipe? Find it here. Learn how to make a great tasting drink that is half the sodium of most brands you will find in stores.
Whether you are going Gluten-Free or just trying to use the plethora of Zucchini in your summer garden.. these recipes are a must! Bloody Maria adds enough spice so you don't have to worry about the sauce!  Just spice the filling to your taste or use our recipe here! Don't be afraid to Mix It Up!