Kick Up Your Menu with Bloody Maria Ceviche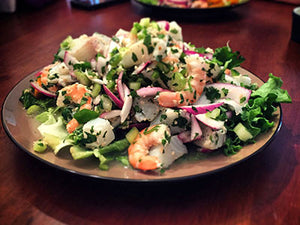 Entertaining this weekend? Spring fever is heating up, and we're ready for summer fare like this twist on ceviche. Even though we're in the high desert, we can still get fresh fish, and nothing tastes better than when it's dressed up with Bloody Maria mix. Head to your local fishmonger and pick up the freshest firm fish you can find—seabass, sole or flounder work great. If there's none to be found, throw in a pound of cooked and peeled shrimp or hunt down some scallops. 
Ingredients:
1 lb. cooked, peeled & deveined shrimp OR fresh, thinly sliced fish or scallops
1 lb. roma (plum) tomatoes, chopped
1/2 red onion, chopped
1 cucumber, chopped
1 bunch fresh cilantro, chopped
3/4 c. Bloody Maria mix
2 limes
hot pepper sauce to taste
salt & black pepper to taste
Directions:
Lightly mix the shrimp, tomatoes, red onion, cucumber and cilantro in a bowl, and pour in the Bloody Maria mix. Squeeze the limes over the mixture, add a dash of hot pepper sauce and sprinkle with salt and pepper. Toss again, cover the bowl and refrigerate for 3-4 hours, stirring occasionally. Important: let it marinate for the full 3-4 hours as this is how it cures the fresh seafood. 
Serve over a bed of romaine lettuce and enjoy.
Show us how it turned out—upload your photos to our Facebook page with #BloodyMariaCeviche. And, if you adapted it and made this recipe even more tasty, tell us how and we may feature your version in our upcoming recipe book!
---
Also in Blog
We'll be taking over the TRAM CAR BAR at Totemoff's Ski Santa Fe on December 31, 11am - 3pm. Come enjoy Live Music and Bloody Maria Micheladas to Ring in the NEW YEAR!
Are you looking for the best low sodium bloody mary recipe? Find it here. Learn how to make a great tasting drink that is half the sodium of most brands you will find in stores.
Whether you are going Gluten-Free or just trying to use the plethora of Zucchini in your summer garden.. these recipes are a must! Bloody Maria adds enough spice so you don't have to worry about the sauce!  Just spice the filling to your taste or use our recipe here! Don't be afraid to Mix It Up!