Pickled Bloody Maria Cheese? Czech Yeah!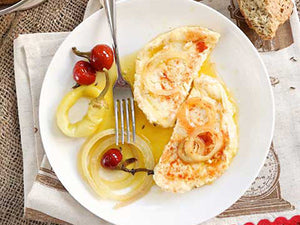 Nakládaný Hermelín, more commonly known as Czech marinated or pickled cheese, is a big deal. Czech Republic locals base their restaurant choice on how good the cheese is. For those of you who are lucky enough to have experienced this cheese first-hand, you know why it's sought-after. Hermelín is a soft cheese, soaked in oil and spices and marinated for about a week. You can easily substitute Camembert or Brie here in the States.
We love this so much, we tried it with Bloody Maria mix to better complement the Bloody Marias we were enjoying with our brunch. The result? Love at first bite. Try it for yourself....here's how.
Ingredients:
Camembert cheese
Onion (1 large)
8 Garlic cloves
3 Bay leaves
Oil
1 t. Black peppercorns
2 T. Thyme
1/4 c. Bloody Maria Mix
Instructions:
Cut the cheese into bite-size cubes, and put it into a lidded jar with all the spices and oil. It may take a few experiments to see how much garlic, onion and spices taste best. Start with the amounts listed above and then shift the quantity. Let it soak for about five to seven days, until it becomes very soft. Enjoy with Bloody Marias and toast or crackers, and you've got yourself a brunch! Na zdraví!
---
Also in Blog
We'll be taking over the TRAM CAR BAR at Totemoff's Ski Santa Fe on December 31, 11am - 3pm. Come enjoy Live Music and Bloody Maria Micheladas to Ring in the NEW YEAR!
Are you looking for the best low sodium bloody mary recipe? Find it here. Learn how to make a great tasting drink that is half the sodium of most brands you will find in stores.
Whether you are going Gluten-Free or just trying to use the plethora of Zucchini in your summer garden.. these recipes are a must! Bloody Maria adds enough spice so you don't have to worry about the sauce!  Just spice the filling to your taste or use our recipe here! Don't be afraid to Mix It Up!