Bloody Maria Chili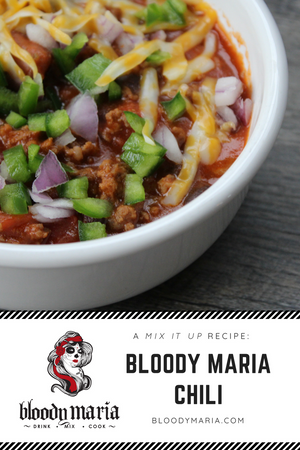 Eating Chile is habit forming!  The capsaicin that's in chile peppers not only affects the level of heat of the pepper, it also adds to the level of your addiction! 
Because Bloody Maria Mix is already perfectly seasoned with New Mexico Hatch Chiles, we make the perfect chili.
This recipe is so simple and easily adjusted.  Add more veggies in your version like carrots and green peppers. Add more spices like cumin!  Top with raw onions, peppers, and  colby jack cheese.  Serve with rice to tortillas!  Add it to your nachos, sandwiches, hot dogs, and so much more!  
This is why we are Making' Beef BETTER!
Bloody Maria Chili
Ground Beef 2 pounds
Cooked Beans  2-3 cups  
Bloody Maria Mix 1 jar 
Onion 1 medium
Celery 2 stalks 
Garlic Cloves 2
Tomato 2 cups diced or 
2 cans crushed tomatoes 
*Tomato Sauce 1 can
1. Dice onion, garlic and celery, ground beef. Season with salt and pepper. Cook until beef is browned. 
2. Add Bloody Maria Mix, cooked beans of your choice, and tomatoes.  Simmer on low for 45 mins. Use extra tomato sauce if needed for your desired taste and consistency. 
Be sure to check out our Huevos Rancheros Recipe that puts our Bloody Maria Chli to good use! 
---
Also in Blog
We'll be taking over the TRAM CAR BAR at Totemoff's Ski Santa Fe on December 31, 11am - 3pm. Come enjoy Live Music and Bloody Maria Micheladas to Ring in the NEW YEAR!
Are you looking for the best low sodium bloody mary recipe? Find it here. Learn how to make a great tasting drink that is half the sodium of most brands you will find in stores.
Whether you are going Gluten-Free or just trying to use the plethora of Zucchini in your summer garden.. these recipes are a must! Bloody Maria adds enough spice so you don't have to worry about the sauce!  Just spice the filling to your taste or use our recipe here! Don't be afraid to Mix It Up!